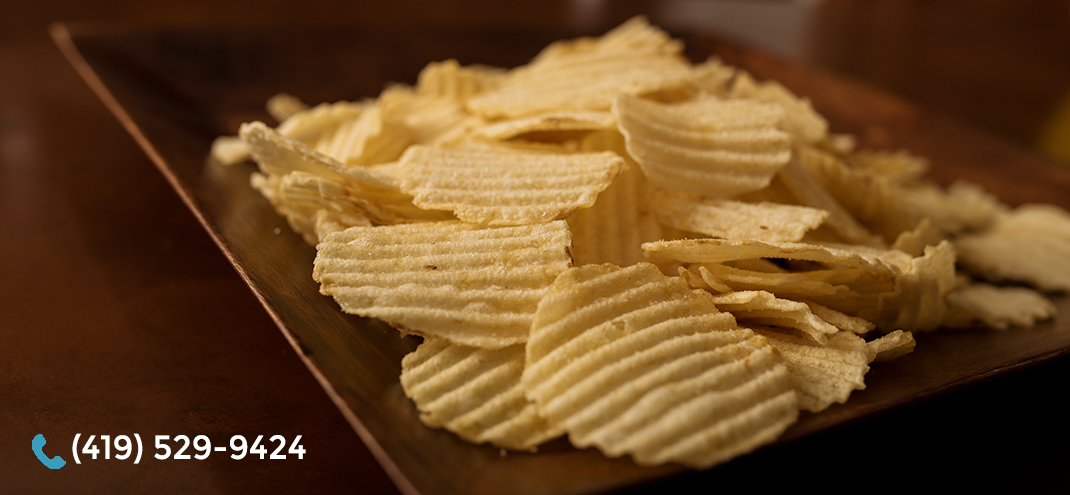 Private Label & Co-Packing
Jones' Potato Chips has experienced significant growth due to increased interest in our products for private label brands and co-packing for snack companies. We currently produce private label for national grocery and drugstore accounts, as well as regional grocery chains. In addition, we are co-packing for distribution companies using their own brands.
The flavor and quality of our products are equal to or exceed all national brands. We take pride in using the best Grade A whole potatoes available for purchase.
Products & Flavors
The products that we are able to produce at this time are:
Original Style Potato Chips
Wavy/Ripple Style Potato Chips
Potato Sticks/Shoestring Potatoes
We have a number of flavors that are already available, and we also use spices that are supplied to us by our customers. If a customer has a special requirement for seasoning that we do not currently stock, we can accommodate new flavors with appropriate volume.
Our readily available flavors include:
Barbecue (Traditional)
Barbecue (Sweet & Spicy)

Barbecue (Sweet & Hot)
Sweet Honey BBQ
Sour Cream & Onion
Salt & Vinegar
Cheddar & Sour Cream
Spicy
Hot
Certifications
FS22000 Food Safety
The Jones Potato Chip Company is certified under the FS22000 Food Safety program, which is sanctioned by the Global Food Safety Initiative (GFSI). This program includes a stringent audit that is conducted on an annual basis by an independent third party organization. The FS22000 program compels us to manufacture our products in a clean and safe environment. We take pride in the cleanliness and sanitation of our facility.
Kosher

Our production facility is under the supervision of the Orthodox Union (OU) for kosher certification. OU has one of the highest standards regarding sanitation and for the purity and quality of ingredients.
Interested?
If you have questions about our private label or co-pack capabilities, please contact Bob or Darryl Jones.
Bob Jones
eyJpZCI6IjEzIiwibGFiZWwiOiJiY29udGFjdCIsImFjdGl2ZSI6IjEiLCJvcmlnaW5hbF9pZCI6IjEiLCJ1bmlxdWVfaWQiOiJ3ZWZqMiIsInBhcmFtcyI6eyJ0cGwiOnsid2lkdGgiOiIxMDAiLCJ3aWR0aF9tZWFzdXJlIjoiJSIsImJnX3R5cGVfMCI6Im5vbmUiLCJiZ19pbWdfMCI6IiIsImJnX2NvbG9yXzAiOiIjODFkNzQyIiwiYmdfdHlwZV8xIjoibm9uZSIsImJnX2ltZ18xIjoiIiwiYmdfY29sb3JfMSI6IiMzMzMzMzMiLCJiZ190eXBlXzIiOiJjb2xvciIsImJnX2ltZ18yIjoiIiwiYmdfY29sb3JfMiI6IiMzNjljYmIiLCJiZ190eXBlXzMiOiJub25lIiwiYmdfaW1nXzMiOiIiLCJiZ19jb2xvcl8zIjoiIzMzMzMzMyIsImZpZWxkX2Vycm9yX2ludmFsaWQiOiIiLCJmb3JtX3NlbnRfbXNnIjoiVGhhbmsgeW91IGZvciBjb250YWN0aW5nIHVzISIsImZvcm1fc2VudF9tc2dfY29sb3IiOiIjMTEwMzAzIiwiaGlkZV9vbl9zdWJtaXQiOiIxIiwicmVkaXJlY3Rfb25fc3VibWl0IjoiIiwidGVzdF9lbWFpbCI6ImNoaXBzQGpvbmVzY2hpcHMuY29tIiwic2F2ZV9jb250YWN0cyI6IjEiLCJleHBfZGVsaW0iOiI7IiwiZmJfY29udmVydF9iYXNlIjoiIiwicHViX3Bvc3RfdHlwZSI6InBvc3QiLCJwdWJfcG9zdF9zdGF0dXMiOiJwdWJsaXNoIiwicmVnX3dwX2NyZWF0ZV91c2VyX3JvbGUiOiJzdWJzY3JpYmVyIiwiZmllbGRfd3JhcHBlciI6IjxkaXYgW2ZpZWxkX3NoZWxsX2NsYXNzZXNdIFtmaWVsZF9zaGVsbF9zdHlsZXNdPltmaWVsZF08XC9kaXY+In0sImZpZWxkcyI6W3sibGFiZWwiOiJOYW1lIiwicGxhY2Vob2xkZXIiOiIiLCJodG1sIjoidGV4dCIsInZhbHVlIjoiIiwibWFuZGF0b3J5IjoiMSIsIm5hbWUiOiJuYW1lIiwiYnNfY2xhc3NfaWQiOiIxMiIsImRpc3BsYXkiOiIiLCJtaW5fc2l6ZSI6IiIsIm1heF9zaXplIjoiIiwiYWRkX2NsYXNzZXMiOiIiLCJhZGRfc3R5bGVzIjoiIiwiYWRkX2F0dHIiOiIiLCJ2bl9vbmx5X251bWJlciI6IjAiLCJ2bl9vbmx5X2xldHRlcnMiOiIwIiwidm5fcGF0dGVybiI6IjAiLCJ2YWx1ZV9wcmVzZXQiOiIiLCJkZWZfY2hlY2tlZCI6IjAiLCJsYWJlbF9kZWxpbSI6IiIsInZuX2VxdWFsIjoiIiwiaWNvbl9jbGFzcyI6IiIsImljb25fc2l6ZSI6IiIsImljb25fY29sb3IiOiIiLCJpY29uX3NlbGVjdGVkX2NvbG9yIjoiIiwicmF0ZV9udW0iOiIiLCJ0aW1lX2Zvcm1hdCI6ImFtX3BtIn0seyJsYWJlbCI6IkVtYWlsIiwicGxhY2Vob2xkZXIiOiIiLCJodG1sIjoiZW1haWwiLCJ2YWx1ZSI6IiIsIm1hbmRhdG9yeSI6IjEiLCJuYW1lIjoiZW1haWwiLCJic19jbGFzc19pZCI6IjEyIiwiZGlzcGxheSI6InJvdyIsIm1pbl9zaXplIjoiIiwibWF4X3NpemUiOiIiLCJhZGRfY2xhc3NlcyI6IiIsImFkZF9zdHlsZXMiOiIiLCJhZGRfYXR0ciI6IiIsInZuX29ubHlfbnVtYmVyIjoiMCIsInZuX29ubHlfbGV0dGVycyI6IjAiLCJ2bl9wYXR0ZXJuIjoiMCIsInZhbHVlX3ByZXNldCI6IiIsImRlZl9jaGVja2VkIjoiMCIsImxhYmVsX2RlbGltIjoiIiwidm5fZXF1YWwiOiIiLCJpY29uX2NsYXNzIjoiIiwiaWNvbl9zaXplIjoiIiwiaWNvbl9jb2xvciI6IiIsImljb25fc2VsZWN0ZWRfY29sb3IiOiIiLCJyYXRlX251bSI6IiIsInRpbWVfZm9ybWF0IjoiYW1fcG0ifSx7ImxhYmVsIjoiTWVzc2FnZSIsInBsYWNlaG9sZGVyIjoiIiwiaHRtbCI6InRleHRhcmVhIiwidmFsdWUiOiIiLCJtYW5kYXRvcnkiOiIxIiwibmFtZSI6Im1lc3NhZ2UiLCJic19jbGFzc19pZCI6IjEyIiwiZGlzcGxheSI6InJvdyIsIm1pbl9zaXplIjoiIiwibWF4X3NpemUiOiIiLCJhZGRfY2xhc3NlcyI6IiIsImFkZF9zdHlsZXMiOiIiLCJhZGRfYXR0ciI6IiIsInZuX29ubHlfbnVtYmVyIjoiMCIsInZuX29ubHlfbGV0dGVycyI6IjAiLCJ2bl9wYXR0ZXJuIjoiMCIsImRlZl9jaGVja2VkIjoiMCIsInZhbHVlX3ByZXNldCI6IiIsImxhYmVsX2RlbGltIjoiIiwidm5fZXF1YWwiOiIiLCJpY29uX2NsYXNzIjoiIiwiaWNvbl9zaXplIjoiIiwiaWNvbl9jb2xvciI6IiIsImljb25fc2VsZWN0ZWRfY29sb3IiOiIiLCJyYXRlX251bSI6IiIsInRpbWVfZm9ybWF0IjoiYW1fcG0ifSx7ImxhYmVsIjoiU2VuZCIsInBsYWNlaG9sZGVyIjoiIiwiaHRtbCI6InN1Ym1pdCIsInZhbHVlIjoiIiwibWFuZGF0b3J5IjoiMCIsIm5hbWUiOiJzZW5kIiwiYnNfY2xhc3NfaWQiOiIxMiIsImRpc3BsYXkiOiIiLCJtaW5fc2l6ZSI6IiIsIm1heF9zaXplIjoiIiwiYWRkX2NsYXNzZXMiOiIiLCJhZGRfc3R5bGVzIjoiIiwiYWRkX2F0dHIiOiIiLCJ2bl9vbmx5X251bWJlciI6IjAiLCJ2bl9vbmx5X2xldHRlcnMiOiIwIiwidm5fcGF0dGVybiI6IjAiLCJkZWZfY2hlY2tlZCI6IjAifV0sIm9wdHNfYXR0cnMiOnsiYmdfbnVtYmVyIjoiNCJ9fSwiaW1nX3ByZXZpZXciOiJiYXNlLWNvbnRhY3QuanBnIiwidmlld3MiOiIzNDEwMiIsInVuaXF1ZV92aWV3cyI6IjIzMzc1IiwiYWN0aW9ucyI6IjEwNzciLCJzb3J0X29yZGVyIjoiMTAiLCJpc19wcm8iOiIwIiwiYWJfaWQiOiIwIiwiZGF0ZV9jcmVhdGVkIjoiMjAxNy0wMy0yMCAwMDowMTowMyIsImltZ19wcmV2aWV3X3VybCI6Imh0dHBzOlwvXC93d3cuam9uZXNjaGlwcy5jb21cL3dwLWNvbnRlbnRcL3BsdWdpbnNcL2NvbnRhY3QtZm9ybS1ieS1zdXBzeXN0aWNcL2Fzc2V0c1wvZm9ybXNcL2ltZ1wvcHJldmlld1wvYmFzZS1jb250YWN0LmpwZyIsInZpZXdfaWQiOiIxM18zNzc1MzEiLCJ2aWV3X2h0bWxfaWQiOiJjc3BGb3JtU2hlbGxfMTNfMzc3NTMxIiwiY29ubmVjdF9oYXNoIjoiZTg4NzdlZWEzYmU0M2MyNjU3ZmU0ZjcwYzJmNjM3ODMifQ==