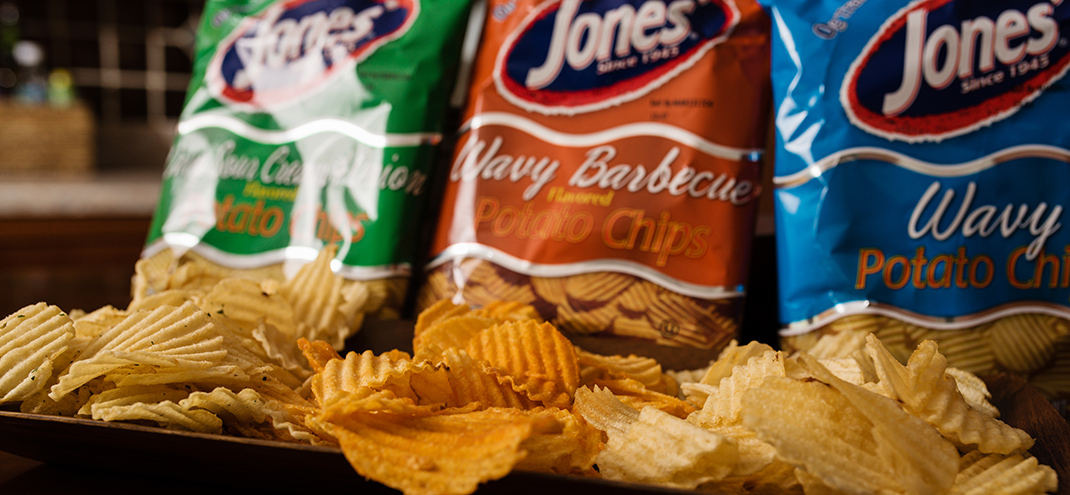 Jones' Potato Chips Today
Our company has experienced a tremendous amount of change over the last ten years. New opportunities have allowed us to extend our sales area from a few counties in North Central Ohio to most of the United States. We are excited about the future and will continue to serve all of our customers with outstanding, high-quality products.
The History of Our Company
The Beginning It started with a dilemma. Back in the early 1940's Frederick W. Jones was a potato chip distributor with no potato chips to sell. His normal supplier was struggling to keep up with production. The solution came in two parts. Frederick's supplier gave their blessing to form his own potato chip company. Equally important, his supplier graciously provided much-needed experience, teaching Frederick how to produce excellent potato chips. The Jones Potato Chip Company was born. Frederick cooked his potato chips by hand in a kettle. The chips were lifted out of the hot oil in a basket and spread out on a counter to cool and to be salted. Then the potato chips would be put into wax bags, stapled shut, ready to be put into cartons to be delivered to local stores and restaurants. The wax bags did not protect the chips from light or moisture very well; providing quality potato chips to the customers was a challenge. The difficulties in producing a high quality product drove many of the local hometown potato chip companies out of business. The companies that overcame the obstacles to produce good-tasting products thrived.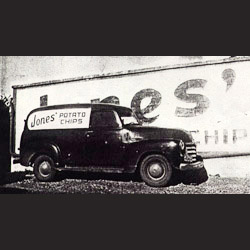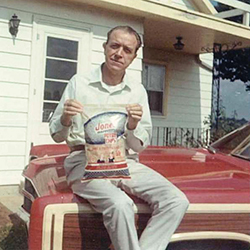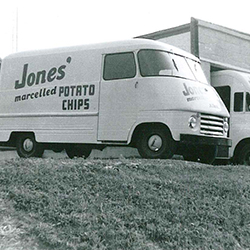 The Difference
When the Jones Potato Chip Company was created, there were no wavy potato chips in the Mansfield, Ohio, area. From the beginning, Jones Potato Chips used the term "Marcelled" to describe their wavy-style chips. Frederick used this to differentiate his product and get his potato chips into the local stores.
Once business was secured, it was essential to keep the customers. Frederick's willingness to service his stores better than any of his competitors was a critical factor in maintaining the relationship with each customer. Frederick was also determined to make every package of Jones Potato Chips that left his factory of the highest possible quality. Frederick commented, "Stores sell potato chips one package at a time and customers eat potato chips one package at a time." Frederick wanted each bag sold, each chip savored, to be an enjoyable experience.
The unique-tasting Jones Potato Chips became a local favorite and the company grew. In order to increase production, pieces of automated equipment were added to the cooking process. By the 1960's everything from peeling potatoes, slicing, frying, salting, and packaging were fully automated.
In 2007, the Jones Potato Chip Company launched into a new adventure: producing potato sticks, also known as shoestring potatoes. The quality of our potato sticks meets or exceeds that of any other brand that is on the market today, and as a result, our production of this unique snack continues to increase.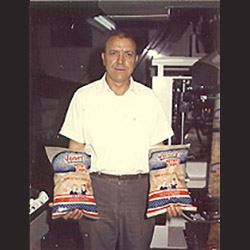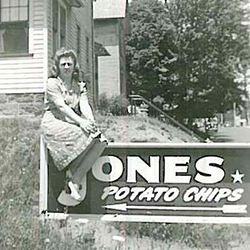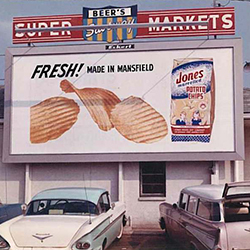 A Family Affair
The Jones Potato Chip Company is truly a family organization. Frederick, his wife Elaine, and all six of their children have worked in the business. Through the years, over forty family members have been employed by the company. Frederick and Elaine Jones retired in 1986.
The Jones Potato Chip Company strives to maintain a family atmosphere within the organization. Success would not have been possible without the steadfast and loyal effort of many individuals over the years. The hard work and dedication of our employees, both past and present, has contributed greatly to the Jones Potato Chip Company.
There is one part of the "family" that we have yet to mention: our customers. There are many customers that have eaten Jones Potato Chips for years and years. Thank you! If you haven't tried Jones Potato Chips we invite you to join the "family". It is with great pride that we continue to make great-tasting potato chips and snack foods and can truly say, "Family Made Since 1945."
Our Journey of Environmental Conservation
The Jones family has been intrigued by the efficiency and thoughtful use of resources that we have observed throughout history. For thousands of years, people and companies have been ingenious in their methods to conserve what was available to them. We wish to carry on that tradition here at the Jones Potato Chip Company. When we began production at our current site in 2010, we generated approximately twenty commercial dumpsters of waste per week. After one year, we analyzed where and how the waste was generated, and we began finding ways to recycle and reuse our materials. The result was a 75% reduction in waste over the next few months.     Organic Waste The organic waste that we generate is made up of potato skins, potato pieces, potato particles from the slicing process, fried crumbs, waste potato chips from our start-up and shut-down processes, potato starch, and potato chips past expiration dating. These materials are used in cattle feed. Cooking Oil Waste cooking oil is sold to a company that uses the oil for a wide variety of products. We are responsible to clean up our process water and meet water standards before it is discharged back to the City of Mansfield. Removing cooking oil from process water is part of this procedure. Corrugated Cartons & Paper Waste Since 1945 we have re-used cardboard boxes up to seven times for products that are used in our local distribution. All of our waste cardboard is baled for recycling. All office paper waste is also recycled. Plastic Stretch Wrap All of the plastic stretch wrap waste that we generate is baled and recycled. Metal & Wood Scraps Metal pieces that are left from fabrication are sold for scrap, and wooden pallets that are not usable are taken by reclamation companies and rebuilt for re-use. Benefits There are a number of benefits that are derived from taking the time and effort to conserve resources. First and foremost, keeping waste out of our landfills is the responsible thing to do. In addition, we have saved money on waste services as a result of our waste reductions. Some of the recyclable materials generate a small amount of income when they are sold. Any materials that can be re-used in some fashion are a benefit to our company and to society in general.
A Quick History of the Potato Chip
The potato chip was invented in 1853 by George Crum. Crum was a Native American/African American chef at the Moon Lake Lodge resort in Saratoga Springs, New York, USA. French fries were popular at the restaurant, and one day a diner complained that the fries were too thick. Although Crum made a thinner batch, the customer was still unsatisfied. Crum finally made fries that were too thin to eat with a fork, hoping to annoy the extremely fussy customer. The customer, surprisingly enough, was happy – and potato chips were invented! Crum's chips were originally called Saratoga Chips and potato crunches. They were soon packaged and sold in New England – Crum later opened his own restaurant. William Tappendon manufactured and marketed the chips in Cleveland, Ohio, in 1895. In the 1920s, a salesman named Herman Lay sold potato chips to the southern USA (selling the chips from the trunk of his car). In 1926, Laura Scudder (who owned a potato chip factory in Monterey Park, California) invented a wax paper potato chip bag to keep the chips fresh and crunchy. With further technology, innovation, and a countless number of variations and flavors, potato chips have only grown in popularity over the years!